Battery Maintenance
One major problem faced with Mobility Scooters and Power Chairs is the battery life. They are pretty pricy and some seem to have a rather short life span. The key to getting the most out of your batteries is maintenance. Like everything in life, if you take care of it, it will last as long as you need it. With these simple tips, it will be years before you even notice your battery losing charge.
Keeping it Charged
This can be a hassle but when it comes down to it, will save you some real bucks. It is manufacturer recommended that after any type of use, you should plug it in and give it a full charge. NEVER let your battery reach empty. This will cut your batteries life drastically. Also its a good habit to unplug your charger once fully charged.
Storage
Although not damaged in hot or cold climate, it is best to keep your batteries in a cool dry place. this will increase battery performance. If you will not be using your scooter for a while, you should take the batteries out and store them inside. Even when out of the scooter still charge the batteries occasionally to keep full life.
Cleaning
Keep your terminals of your batteries clean and greased to get full performance from them. Avoid water at all cost but if they were to get wet wipe them down and let dry before use. For cleaning the battery and terminals, use a damp cloth to remove what you can.
Following these simple tips will give you the best life span out of your batteries. Try it for yourself and you will be pleasantly surprised with how great your batteries run years down the line.
With our New line of 2012 Heartway USA Mobility
  Scooters arriving we have decided to reach out and set
up Demos around the Southwest Florida area!
After our move in January, Heartway USA has been building its presence in the Fort Myers region. The next step in our campaign, is to travel out to our customers and let them feel for themselves, what is truely different about Heartway Scooters. With the Luxury of the Vita S17's, Ruggedness of the Vita S12X Monster, and the Comfort of the Bien S15, their is a dream ride for everyone.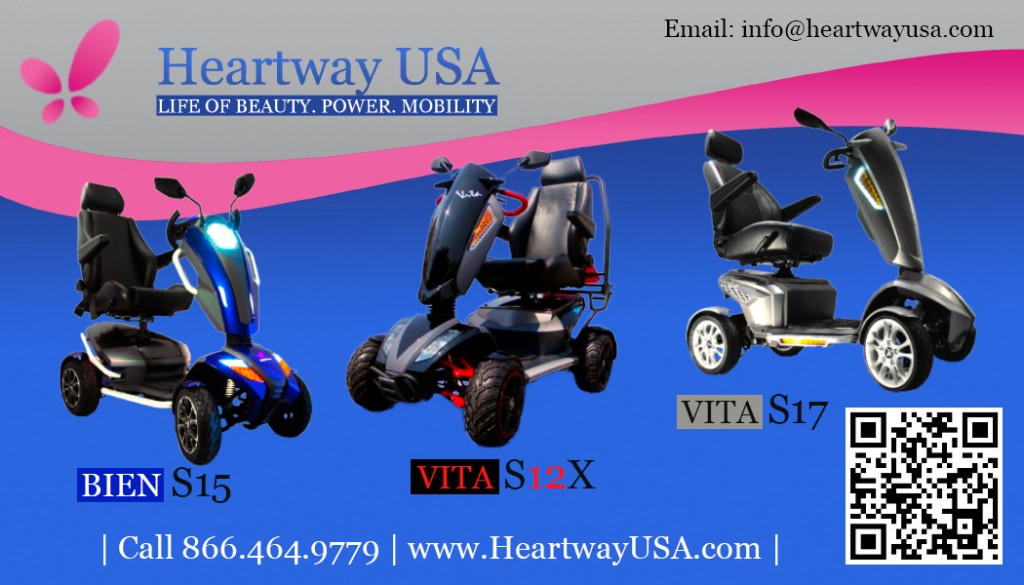 Thanks to Vista Print, we now have great cards to give out at our Demos that showcase our Premier Scooters. Stay up to date and watch out for our next posts with Dates and Locations of our demos. Send us a request if you have somewhere you would like us to stop in the Southwest Florida Area!
With our New inventory, we have even more
of a selection of top quality
Mobility Scooters and Power Chairs 
to fit everyone's lifestyle!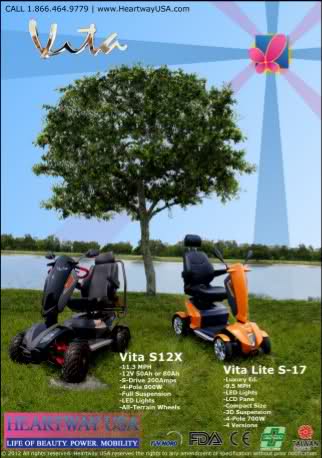 Like our Rugged
 Vita S12X 
and our Majestic
 Vita S-17 Luxury
Take the wheel
and show life
what it means to be 
truly free!
Feel free to contact us at (239) 275-6767 or Email us at [email protected]
with any of your questions or concerns.