Testimonials
Testimonial - Heartway Allure RT  (HP6RT)
"The Bible says,
"Trust in the Lord, and do good; dwell in the land and befriend faithfulness. Delight yourself in the Lord, and he will give you the desires of your heart." Psalms 37 v. 3~4″
….the chair is easy to handle, offers me freedom to do more things than before, fits me perfectly and allows me comfort because of the design, and still allows me to maneuver the chair much easier than the ones I've had in the past. The professionalism exhibited by Alec and Edith was awesome. Heartway USA heard my story, saw my need and supplied it for me. For that words cannot express my thanks.
Your company motto "life, beauty, power, mobility" stands tried and true. Thank you for your kindness and I pray the Lord will continue to bless your business, your family, your employees and everyone assisted in the process to get the chair delivered to my home. Thank you all, I will never forget your kindness…."  
———-Fay Henry, Miami FL
---
Testimonial - Heartway Vita (S12)
"I loaded the s12 up in my p/u and went to find a gravel mountain rd. I did and the scooter did outstanding,went UP the road at a
continuous upgrade with ruts and loose gravel ! It was so so peaseful and quiet!!! It was great to get away from the house and back into "mother nature". The Vita performed exceptional,floating over ruts that were 3-4 inches deep! Went 3 miles up then 3 back and still had 3 bars left when I got back to the house!!!! The tires did really good and gave me excellent traction !! Thank you again for all your help and understanding! You really helped an "old disabled vet" get "out and about" and the understanding and support for my "tire" idea made everything work wonderful! thank you."
"Got my 2 tires today and they look great,also got the the s12 fri and WOW  what a scooter !!!! Smooth ride,great seat, great workmanship and got my hoist lift bracket to fit!!! now I  can just lift it into the bed of my truck and go!!! again thank you so so much for working with  me!!! I wish you all the best!!!     Jim"
——- James Davis, Covington, VA 
---
Testimonial - Heartway Vita Lite (S17 Cutie)
"I have had my Cutie for a couple years now and I never fail to receive compliments no matter where I go with it, especially at the NASCAR race tracks.  The lights and of course the checked flag effect are attractable features to all ages.  Not to mention the comfortable "captain style seat" and great suspension when riding around the track roads.
It's one thing to be disabled, but it's another to be able to be disabled and ride with class!
Thanks again."
——- Connie Kisner, Port Orange, FL
---
Testimonial - Vita X S12X Monster Scooter
"I have had My Vita Monster S12X for about 5 months. It's Awesome. I typically say life altering. Yes the 28 mile range is a complete farce, but everything else about it is amazing. I use it almost daily and go approximately 50 miles a week on it. The other reviewer wasn't happy with the top speed… I don't know what to say other than I am 215 lbs and often hit 12.5 to 13 mph on flat hard surfaces. I have never run out of juice on the road, but the last bar, out of six, typically starts flashing after about 10 miles. I'd guess I could do 12-13 miles, but I haven't pushed it yet. That out of the way, the main reason I bought this scooter was to go off road. I am an amateur photographer and this scooter has opened so many new possibilities for me that I could never have had using my manual wheelchair. I use some caution on very steep inclines/declines, but as far as open fields, parks, walking trails… no problems at all. By mistake I found myself going down a 30 degree slope… thought I was going to die, but I didn't… I made it to the bottom 30 feet later. The only better off road experience I've had was using a Magic Mobility X8 Extreme. That beast was fantastic for really tough terrain, but couldn't come close to the speed or handling of the Monster… and it's $20,000. This was a steal at the time I bought it for $3995… +$280 for the bigger batteries. Don't get the smaller battery, that probably would be a nightmare. Again, battery life/range is the only reason this doesn't get 5 stars. Coming from a T12 paraplegic… This scooter ROCKS. (My 3 year old son often rides along with me on the 10 mile trips… he also thinks "It's AWESOME")"
By BobIndy
---
Testimonial - Heartway Vita S12S Mobility Scooter and CEO P25 Power chair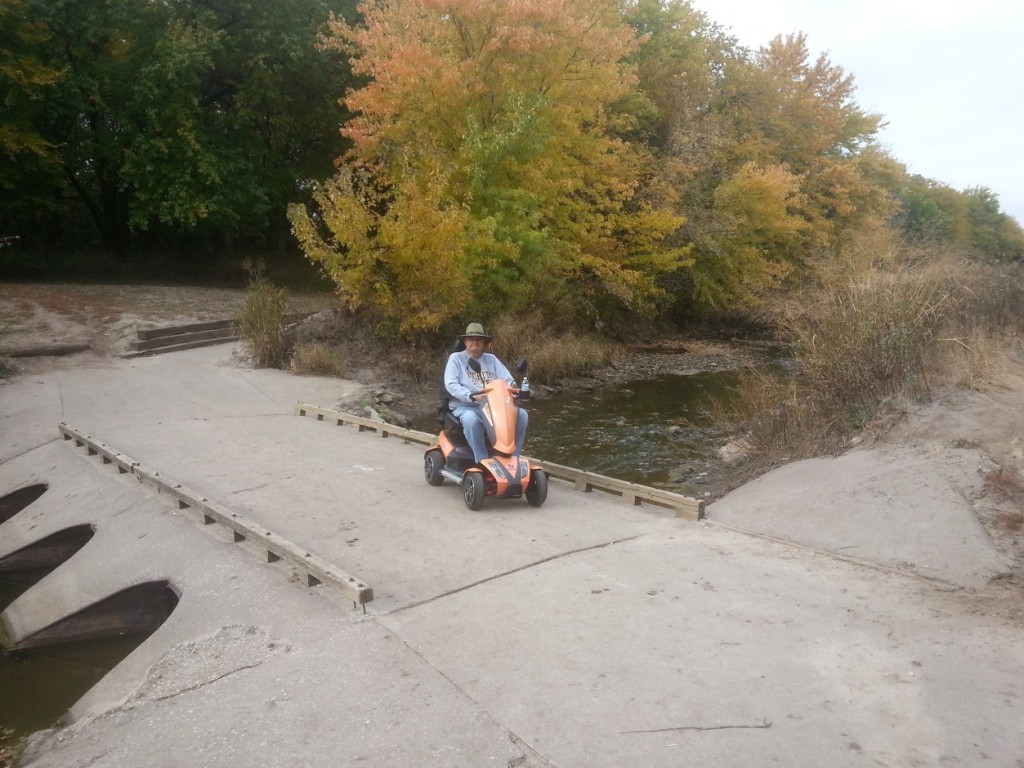 "As the title suggests, I am an owner and operator of two Heartway products. Last spring, I was looking for a powerchair with an elevating seat and stumbled across the CEO P25 powerchair on the internet. I took a second and third look at the P25 from a design aspect and liked what I saw. The frame looked stout, the information about the electrical system seemed solid, so I ventured outside the box and ordered one. I was equally pleased with the free delivery to my residence a half country away from the shipping location in Florida.  The final assembly took my wife and I only about 10 minutes to complete after unpacking the powerchair. After completing the charging operation as suggested in the owner's manual, I was off for a test ride, where I found the P25 as strong and stout as it looks and with a working suspension that makes the ride more comfortable. A few days later, this chair was my ramp-van seat when we took it on vacation to Wisconsin and took in a Brewer's game in Milwaukee and toured Lambeau Field in Green Bay. We had no problems using the built-in tie-down brackets to secure the chair in our ramp van. I sat in the seat of the P25 for the most part of six days minus the time in bed, and found the seat to be comfortable.
I was also looking for a replacement for my six year old Pride Victory 10 scooter. I wanted something a little more unique than the standard run of the mill 5 mph scooter that limited my use by their slow turtle speeds. Being satisfied with my P25 powerchair, I researched, then ordered a Vita S12S that appeared to have all the comfort and speed I desired to extend my range of mobility. I was correct in my assumptions about the S12S and I am now making timely trips to the grocery store (8 miles round trip (RT)), to Home Depot (7.5 miles RT), Lowes (9.5 miles RT), and to meet my friends for lunch once a week in various places (8 to 14 miles RT). I am very happy with the 11.5 mph ground speed, as well as the ability to easily control the ground speed when the sidewalk conditions vary.
After three months of use, my Vita S12S has carried me 524 trouble-free miles (as of this writing). So far, I have not had any issues with acceptable battery life, even on my 14 mile trips to eat lunch with my buddies. The specs claim 30 miles of travel on one charge and I suspect that to be correct if the scooter is used in low (8 mph) range, but I spend a lot of travel time in high range that consumes more battery power. When returning home after traveling 14 miles in high range, I still have two bars of power showing on the battery condition meter.
I am equally pleased with the responses to any inquiries that I have received from the Heartway USA Reps in Ft. Myers. If they don't know the answer to my questions, they communicated directly with the factory and promptly got a reply back to me. So far, I can only say good things about the P25 Powerchair, the Vita S12S scooter, David Rhodes at Wizmall, and the people at Heartway USA.
I will report back at the 1000 mile mark with any additional remarks, good or bad……"
——  Jerry King from Wichita, KS
---
"We are an Australian family, from Tasmania, Australia.
Our adult son has severe TBI and we travel to places around the world where he can obtain the best therapy.   We have come to the USA for the past 2 years, to the Shepherd Centre,
in Atlanta, which we suggest is one of the best, if not the best, place in the world, for the quality of their therapy and support environment.  We are currently in Atlanta, for 3 months, whilst our son attends Shepherd
We travel often, within Australia, to Asia, and the USA and Canada. We have had to travel with a folding manual wheelchair, as the powered chairs are too heavy and cumbersome for easy travel, and luggage convenience.
I have looked for some time for a lightweight, easily transported, yet strong, powered wheelchair.
I found the Heartway Puzzle 15 online, at a great price, and ordered one immediately.
This is a brilliant product -  light, strong, ergonomically well designed, and easily dismantled for transport.
This chair has been a game changer for the quality of life for both our son and us, whilst travelling.
It is easily dismantled and transported, and provide him and us with independence. It fits easily in the boot of a car, is easy to assemble and disassemble, easily supports our son  (104 kg)  The design is clever and practical.
We have had significant interest in your chair from many here at Shepherd, including James Shepherd.  We have sung the praises of your chair, and provided details to all who enquired.  Yo should have sales directly from this interest.
We suggest that there is a large untapped market for this chair, and certainly the Shepherd Centre would be a good place to profile the quality and convenience.
People in large, clunky, over weight and over engineered power chairs immediately recognise the benefits of the Puzzle 15, and want to know where to get one. The chair was designed by someone who understands.
Thank you
— Laurelle, John and Nils
---
 "Heartway's staff is friendly, knowledgeable, responsive, and easy to work with. The product reliability has been outstanding. Their scooters (especially the high end units) stand out from the crowd. We are very pleased to have Heartway products in our lineup."
— Sherry Turk - Turk Enterprises
---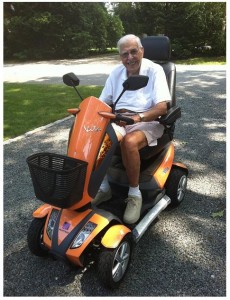 "We shopped around looked at many different brands and models of scooters. Here's why the Vita is perfect for Dad: Freedom. The Vita is easy-to-use and offers a safe and enjoyable alternative to walking or driving a car. Dad gets out of the house whenever he wants and goes wherever he wants. Handles Moderate Terrain Easily. Vita has sufficient ground clearance and bigger wheels for the lawn, the gravel driveway, cobblestones, unpaved walkways. Superior Maneuverability. The 4-wheel Vita couples stability with a smaller turning radius. The steering is responsive. Speed. Ever get caught a distance from the bathroom? The Vita gets you there FAST when you need it, without sacrificing safety. This is one of the fastest scooters on the market. Outstanding Visibility. We call the color of Dad's Vita, "Lamborghini Orange" – you can't miss it. For additional safety, the Vita offers a headlight, taillights, turn signals, a horn, and a back-up warning sound. Great Battery Life. Dad has gone to the beach, to town, to all the local hot spots, and back home without even coming close to running down the battery. Easy Controls. Even with arthritis in his thumb, Dad can operate the Vita easily. The display is intuitive and easy to read. Smart Size. The Vita is fully adjustable and fits a wide range of body types, yet it is relatively compact. Dad keeps his in the garage, next to the car, with plenty of room to spare. The Vita is state-of-the-art, yet offers a great value. We are very satisfied customers. Dad is a new person with his newfound freedom. Thank you Heartway and All Terrain Medical!"
— Terry, purchased a VITA for her Dad
---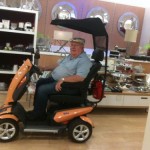 -Roger Stene
---
HEARTWAY SCOOTER DONATION "We're getting to the point where I don't know where we would be without your generosity and this scooter. Since the last batch of pictures, we've been back to my school campus to see the fish and run around EVERY weekend. Todd has also seen zoo animals he's not seen in person in a decade, and also picked a pumpkin straight from the patch it grew in. Fed a goat, helped Cecile on a playground, gave a ride to a stranger's inquisitive kid (making him feel like the man for bringing good pr to being disabled). Cecile is old enough this year that she would certainly notice Todd's absence in all the outdoor activities we do. Now, Daddy can just participate - no big deal - and she'll never know the difference. It comforts me (for both their sakes) more than I can tell you. Life for us is SO vastly improved. Thank you just doesn't seem like enough."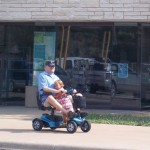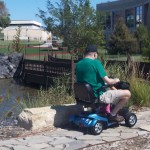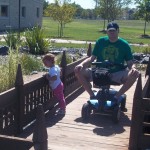 View the flyer — The Thornburgs