Tony Stewart debuts his sweet new ride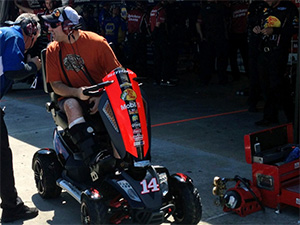 Three-time NASCAR champion Tony Stewart returned to the racetrack on Friday for the first time in a month with a new set of wheels.
No, he's not in a race car – Stewart won't be cleared to drive again until February after breaking his leg in an Aug. 5 dirt race crash. Instead, Stewart has a sweet new scooter to move him around the Richmond International Raceway garage.
Don't worry – "Smoke" isn't riding dirty. Shorts and open-toed shoes (or walking boots, in Stewart's case) became legal in the NASCAR garage last year. That means Stewart is able to watch practice and interact with his teams on site instead of being confined to a bed watching Oprah, which is what he did for most of August.
Source: http://ftw.usatoday.com/2013/09/tony-stewart-debuts-his-sweet-new-ride/