Passport T - S19T Folding Attendant Power Wheelchair
PASSPORT T Folding Attendant Power Wheelchair with Lithium Battery
If you're looking for a Folding Attendant Power Wheelchair, Let the innovative Heartway PASSPORT T S19T take the strain leaving you able to enjoy days out with a loved one. Powered by its lithium battery solution and a powerful 4-pole motor system, the PASSPORT S19T puts you in control efficiently – the easy-to-use handlebars allow you to maneuver with ease. No more aching back or arms, just let PASSPORT S19T take over, so both you and your passenger enjoy a great day out together. With speeds up to 8 km/h with up to the user weight of 115 kg on board and a travelling range of up to twenty kilometers per charge, there is more than enough capacity for most days out. Heartway PASSPORT S19T is the most technically advanced folding attendant power wheelchair on the market today. Its innovative design helps you navigate virtually anywhere you want to go throughout your day. Designed to be quick and easy to dismantle in few seconds in one step without any tool for excellent portability, light-weight design and easy to manage, S19T Folding Attendant Power Wheelchair offer excellent practicality and are designed for every day use. As folded, S19T can be lugged around at home, shopping-malls and airports. With S19T's attractive good looks and increased user-friendliness; part of its design concept is to make it as light as possible, hence the use of the aluminum frame, with an overall folded weight of less than 27kg. Design-wise, the tiller is adjustable for user comfort and lifts off easily without any cable or plug to disengage. These features combined to take Heartway PASSPORT S19T to a new level in portable and Folding Attendant Power Wheelchair design. Practical, stylish, and clever, we believe it is one of the most practical of power wheelchairs on the current market. Lightweight and portable, but also strong and comfortable, S19T fits in almost any car boot and has a range of up to 20 kilometers per charge. Plenty of legroom for all users and a stable secure base make the PASSPORT S19T an excellent all round power wheelchair today.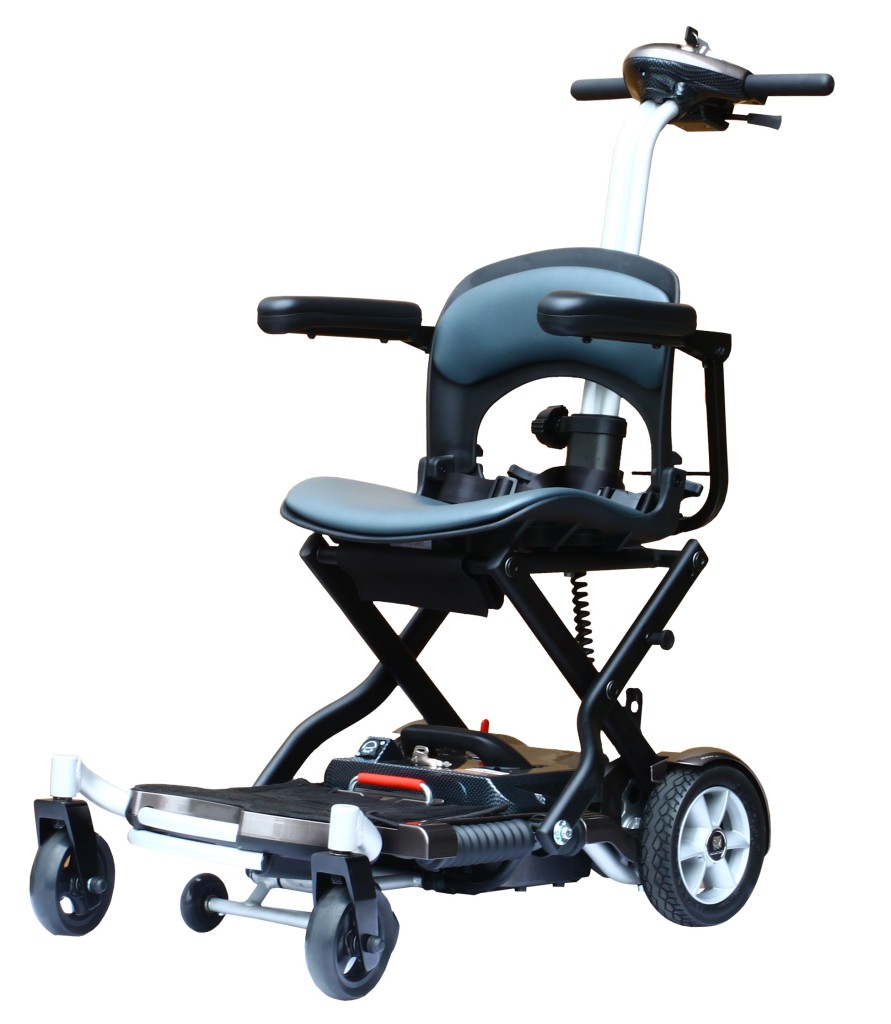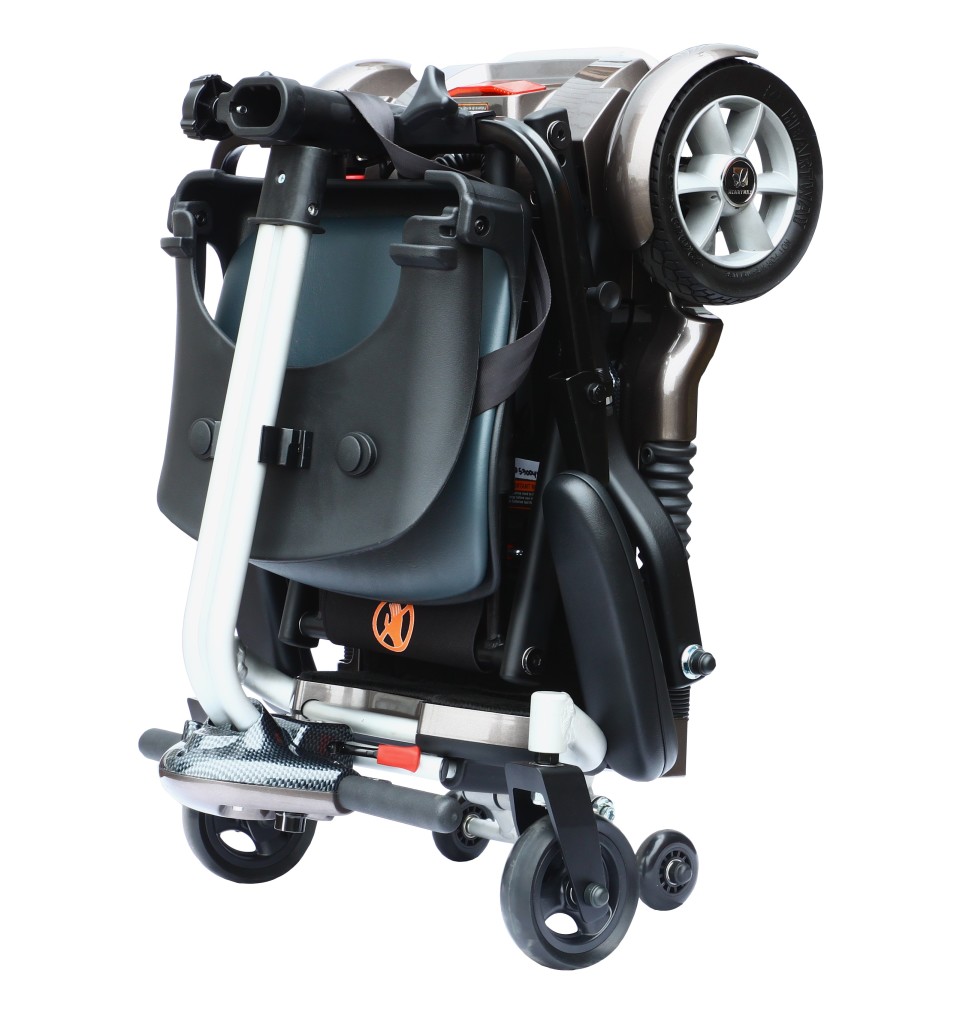 Features: Folding Attendant Power Wheelchair
11.5 Ah Lithium Battery, light weight 5 lbs., longer battery life, bigger range up to 13 miles per charge.
Light weight : heaviest piece , 52 lbs. without battery
Attendant control - ideal for care giver.

Highly reliable 270W motor and 45 Amp S-Drive 

Controller   

Fold-up and width adjustable armrests

Extendable foot-rest adjustment to provide more foot room 

for users  

Lightweight design. It is easy to lift into the car trunk or take in the train or air-plane  

Folded power wheelchair easily rolls along like a 

travelling suitcase 

Anti-theft battery covers to protect the batteries

 from being stolen 

Lightweight, portable and folds in few seconds so 

you can take it everywhere
HeartWay® PASSPORT series Folding Power Wheechairs and Scooter - Video
Specification:
| | |
| --- | --- |
| ITEM | SPECIFICATION |
| WEIGHT CAPACITY | 115kg (250 lbs) |
| DRIVE WHEEL | 200mm x 50mm (8″ x 2″) |
| FRONT CASTER(WHEEL) | 127mm x 38mm (5″ x 1-1/2″) |
| MAX SPEED | 8KPH (5MPH) |
| BATTERY SPECIFICATIONS | 24V 11.5Ah Li-Polymer (or 12Ah Lead Acid Battery is also available) |
| BATTERY RANGE | up to 13 miles (20km)* |
| CHARGER TYPE | 2.5Amp Off Board |
| CONTROLLER TYPE | S-Drive 45Amp |
| MOTOR TYPE | 270W 4-Pole Motor |
| LENGTH | 850mm |
| WIDE | 520mm |
| HEIGHT | 850mm |
| SEAT WIDTH | 410mm |
| SEAT HEIGHT | 350mm |
| SEAT DEPTH | 330mm |
| BACK HEIGHT | 360mm |
| WHEEL BASE | 640mm |
| WEIGHT:W/BATTERY | 26kg |
| W/0 BATTERY | 23.2kg |
| GROUND CLEARANCE | 60mm |
| SUSPENSION | INDEGO SUSPENSION |
| TURNING RADIUS | 680mm |
       *Heartway reserves the rights to amend or change the specifications without prior notice.
* Depending on the use, terrain and driving conditions, the batteries will provide a range of up to 13 miles of travel. However, even if the power chair is not in use, we recommend that the batteries be charged periodically.
CLICK TO PURCHASE w/ LITHIUM BATTERY