Passport XL - S20
HeartWay® PASSPORT XL - S20 Enlarged Folding Scooter / Portable Scooter
All New HeartWay S20 PASSPORT XL is the newest updated Passport (S19) enlarged folding scooter. It is a 4-wheel Foldable scooter with Full Suspension. It weighs only 88 lbs. without battery. It travels a range of 12.4 miles with its larger capacity 14.5Ah Lithium battery. It folds up as easy as just one step. 17" larger seat with padded armrests plus suspension system provide maximum comfort which you can't easily find from other travel folding scooters. Good for both indoor and outdoor use. Larger pneumatic wheels allow you to ride on outdoor terrains with more confidence. It's equipped w/ LED headlight as well as rear brake light.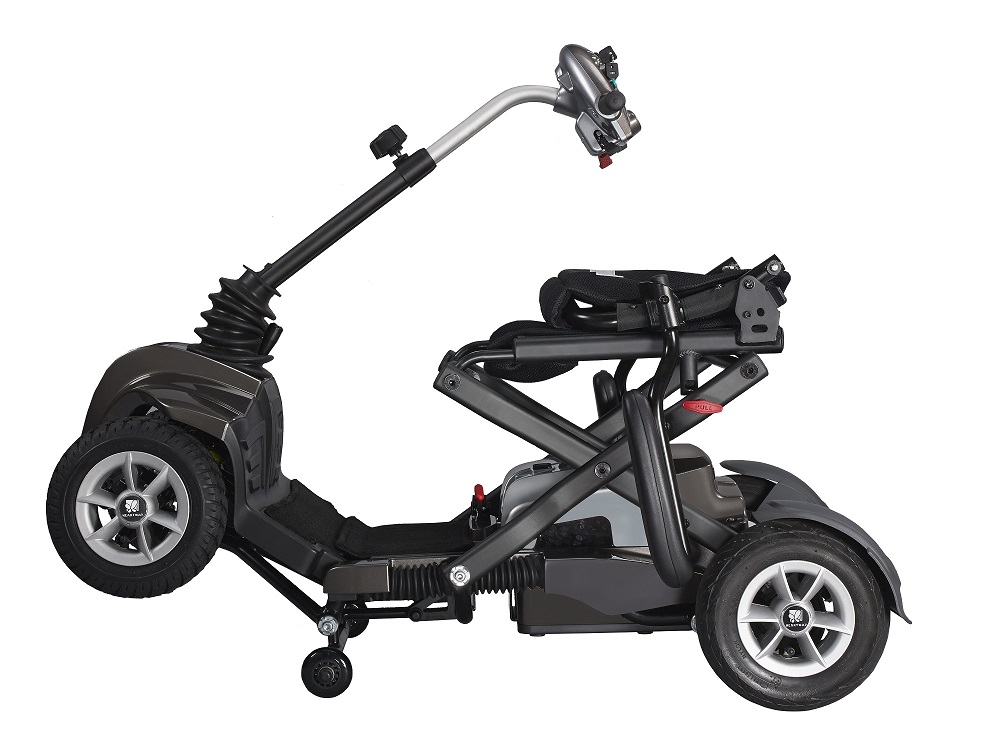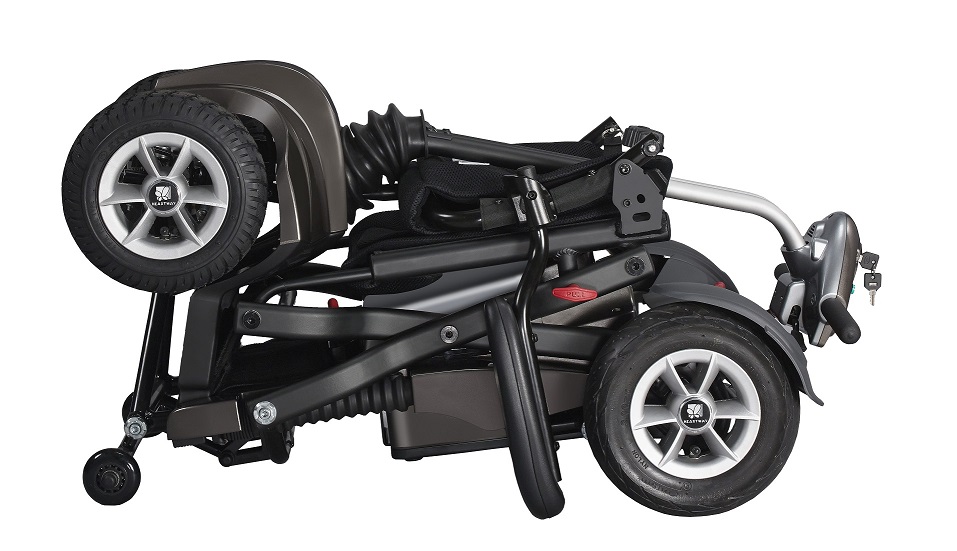 Feature List:
§  S20 PASSPORT XL is an upgraded Passport (S19) folding scooter.
§  It comes with LED Front Headlight; low energy consumption while illuminating the road while driving during the night.
§  Rear Brake Lights;
§  Suspension; you can hardly find a folding scooter having a suspension system.
§  Folding larger seat 17", with quick-release Padded Adjustable Armrests as standard accessory. No need to disassemble armrests to fold scooter.
§  Removable Seat cushion & Back cushion, for easy maintenance and cleaning.
§  Larger Pneumatic Tires 10" Drive wheel.
§  Faster Top Speed of 5.5 miles per hour.
§  Larger battery capacity, 14.5Ah Lithium battery provide a range up to 12.4 miles per charge.
§  Removable Battery Pak, simply leave the scooter in the car or outside or garage; just bring the battery box inside for charging.
§  270W 4-pole motor drivetrain provides a smooth and comfortable ride.
Technical Specification:
ITEM
SPECIFICATION
WEIGHT CAPACITY
275 lb. (135 kgs)
DRIVE WHEEL
10″ x3.5″ (Pneumatic)
FRONT WHEEL
9.5″x 3″ (Pneumatic)
REAR CASTER(ANTI-TIPPER)
1.5″x0.75″ (38 x 19mm)
MAX SPEED
5.5 MPH (9 KM/H)
BATTERY SPECIFICATIONS
24-Volt Lithium 14.5Ah
MAXIMUM TRAVEL RANGE
Lithium 14.5Ah: 12.4 miles (20 km)*.
CHARGER TYPE
For Lithium Battery: 2.5 Amp off board charger /Input: 100~240VAC Dual Mode Off Board Charger –
Output: (SLA) 5 Amp DC (XLR connector)
CONTROLLER TYPE
S-Drive 70 Amp
MOTOR TYPE
Motor: 270W 4-Pole Motor
MOTOR BRAKE
Electromagnetic Brake
DIMENSION
Unfolded: 37″H x22.8″W x 45.6″D Folded: 25.6″H x20.8″W x 38.5"D
WEIGHT W/ BATTERY:
94.8 lbs. (43 kgs) with Lithium 14.5Ah Battery
WEIGHT W/O BATTERY:
88.0 lbs. (40 kgs)
SUSPENSION
Mono Shock Suspension
TURNING RADIUS
41.73″ (1060 mm)
SEAT HEIGHT FROM FOOTBOARD
13.77″ (350  mm)
WHEELBASE
35″ (890 mm)
GROUND CLEARANCE
2.4″ (60.9 mm)
LEG ROOM
12.20″ (310 mm)
* Depending on the use, terrain and driving conditions, the batteries will provide a range of up to 12.4 miles of travel. However, even if the power chair is not in use, we recommend that the batteries be charged periodically.