COMMUNICATIONS FROM HEARTSTAR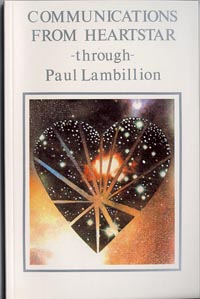 Paul's second book, Heartstar, the source of the information, encourages those who listen to gain a greater understanding of their lives through attunement to the love and wisdom of the Christ Light within their hearts. This first selection of material is published in response to a growing demand to share some of the ideas and teachings that have been given over the years.
If you are a true seeker, looking to understand a little more of the nature of Time, Space, Reality and your place in the Scheme of Life, then this little book may well stimulate and inspire you in these times of great change for Mankind.
Order in the U.K. Today!